Welcome to the online repository on the latest version of Selenium WebDriver. This article is a complete guide which talks about the latest version of Selenium WebDriver with Java, its salient features and provides you with a detailed step by step guide to download & install Selenium 3. This article also helps you setup Selenium and launch your scripts in some of the popular browsers, namely – Google Chrome, Mozilla Firefox and Microsoft Edge.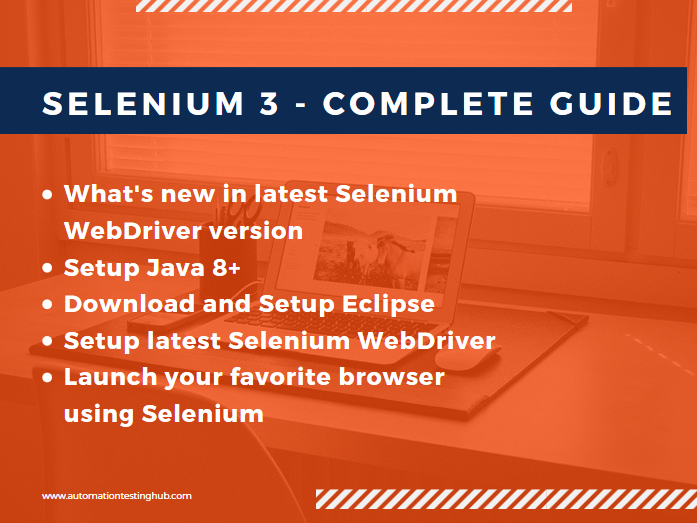 Selenium Latest Version
As on 03 Jan 2018, the latest version of Selenium WebDriver for Java is Selenium 3.8.1. This version of Selenium provides better support for GeckoDriver (which you would need to launch Mozilla Firefox). Before Selenium 3.8, there were other releases of Selenium 3, important ones being, Selenium 3.0beta releases and then Selenium 3.0, 3.1, 3.2 to 3.8
Selenium 3 Important Features
Some of the most important features of Selenium 3 are given in the below list. Due to these new features, there have been many changes in the way you setup and use Selenium. We have taken utmost care that we incorporate all these changes in our articles & code snippets, so that you don't face any issues while downloading and setting up the latest versions of Selenium WebDriver.
Minimum version of Java required to run Selenium 3 is Java 8+
You would need to use GeckoDriver if you want to run your scripts in Firefox versions greater than 47.0.1. Firefox 47.0.1 and before would not need GeckoDriver
Apple has come up with its own SafariDriver to let you run your tests in Safari on Mac
Guava has been updated to version 21
There are a lot more minor features and updates with different versions of Selenium WebDriver. This list of new features and changelog is available here
Download and Install Selenium
Follow the links given below to download and install the latest version of Selenium WebDriver –
1. Check if you have Java 8+ on your machine (you would most probably have Java 8+, but its a still good to check)
2. Download and Install Eclipse IDE for Java
3. Download and Install the latest version of Selenium WebDriver (version 3.8.1)
4. Based on what browser you want to use to write your test scripts, setup corresponding webdriver –
Few more useful articles
1. You can also launch Chrome and Firefox browser in headless mode. Check this article if you wish to implement it in your code – Run your scripts in Headless Mode in Chrome and Firefox
2. Learn how you can disable low level Geckodriver/Marionette logs when you run your scripts on Firefox – Disable Firefox Logs

We hope you were able to use the above links to setup the latest version of Selenium WebDriver and launch your favorite browser. If you faced any issues with any of the steps, then please feel free to contact us using the comments section.
We have lot more articles on Selenium. You can check it here – Selenium Articles and see if you find something that is of interest to you
We share lots of additional information on Facebook, including interesting articles from other blogs as well. Like our page to get all these updates. See you there!!